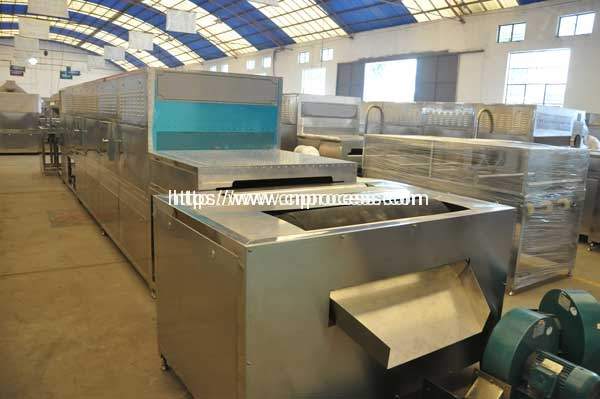 Chili Powder Microwave Sterilizer & Drying Machine is used to sterilize chili powder. It adopt microwave to kil bac
1.  Model Selection for Chili Powder Microwave Sterilizer
Dimension:Length*Width*Height(14.0m*1.1m*1.7m)
Power: 80kW。
Output:1t/h for chili powder
2. Parameter Table of Chili Powder Microwave Sterilizer
| | |
| --- | --- |
| Model | RMMD-F-P-80 |
| Frequency (MHz) | 2450±50 |
| Microwave  Power(kW) | 80 |
| Max Power(kW) | 90 |
| Dimension(L*W*H)(m) | 14.0*1.1*1.7 |
| Cavity Dimension(L*W*H)(m) | 10.00*1.1*0.55 |
| Weight(t) | ≈7t |
| Motor Power(kW) | 0.75  variable frequency regulation |
| Fan Power(kW) | 1.1 variable frequency regulation |
| Cover | Silver |
| Material | SUS304 Stainless Steel |
| Microwave leakage limit (mW/cm²) | ≤1 |
| relative humidity (RH) | ≤85% |
| Voltage | 380V/50HZ Three Phase |
| Sterilization Room Space Requirement(L*W*H) | 18m*3m*2m |
| PLC Control Cabinet | Separate Type |
3. Mechanical Structure of Chili Powder Microwave Sterilizer
1)Cavity Structure:
A. Cubold Shape Length: 10.0m,Width 1.1m,Height: 0.55m;
B. Material:SUS304
2)Inlet Height:60mm,Outlet Height:60mm,Equipped  one Emergency Stop Switch
3) Hydrofuge System, Exhaust Air System:
4)Cleaning Windows: 8 sets,Size:550mm*400mm(allow one person to get  in)。
5)Roll shaft:Silical Gel Processed, meet the requirement for food industry; Roller Material:Stainless steel
6)Automatic deviation rectifier, pneumatic type
7)Inlet Device and outlet device
Inlet Device:       Inlet Size:0.2m³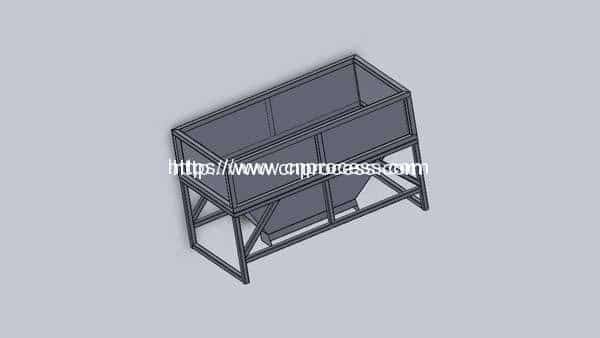 Outlet Device:Outlet Size:0.03 m³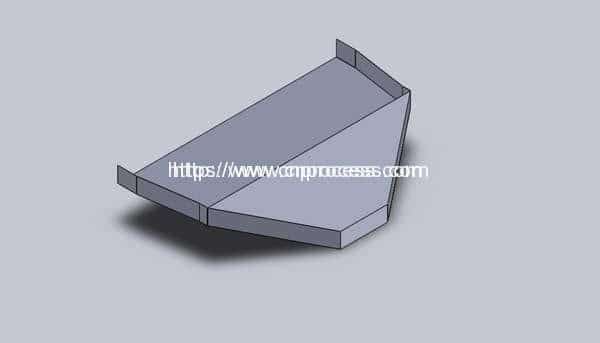 4. Cloth System of Chili Powder Microwave Sterilizer
Teflon material conveyor belt.
Transport System Size:Length 30.00m, Width: 0.75m, Thickness, 0.91mm。
Width of cloth:600mm
Speed:0.2m——8m/min (Multitronic)
5.  Control System of Chili Powder Microwave Sterilizer
1)Control Method:PLC control, fault display, high intelligent and reliable, which realize the full automatic of sterilization and drying.
2)Working condition display and monitor, when some fault happen, it will automatc start protection operation and remind operator. After the fault recovery, the operation can restart the microwave sterilizer and work as the setting programe.
3)Cleaning window is at two side of the door, which avoid condensing water will damage the cleaning windows.
4)Emergency button, ordering wire settting, obvious mark, and wire number is printed on the wire by machine
5) Separate type PLC control cabinet width 300mm, which is suitable for putting folder or tool.
6.  Protection System of Chili Powder Microwave Sterilizer
1)If the dry cavity is open, microwave will not work, this design can avoid fault operation to make the microwave leakage.
2) Microwave leakage ≤1mW/cm2(China Standard:microwave leakage≤5 mw/cm2)。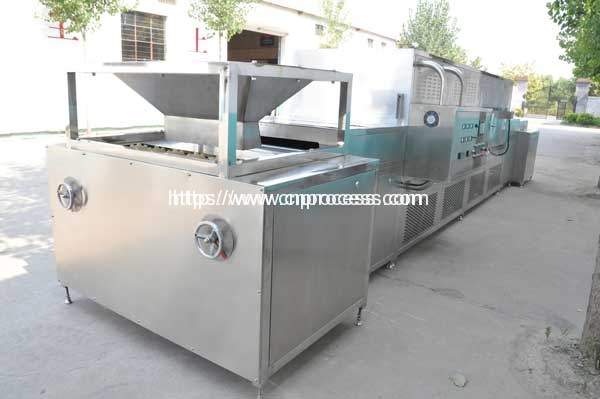 Company Profile
Romiter Group is professional food processing machine supplier from China. Romiter Group is committed to food grindering and milling machine. Romiter can provide various chili processing machine for customer, include chili powder grinder, chilies powder production line, chili stem cutting machine, chili drying machine, chili dry washing machine, chili crusher, chili metal remove machine, chili seeds remove machine, chili stone remove machine and so on.
Send Us Inquiry to Get Quotation