Onion Powder Production Line include onion peeling machine, onion root cutting machine, onion washing machine, onion cutting machine, onion drying machine and onion powder grinder machine.
We provide different design according to customer budget for such line. like full automatic line or semi-automatic line.
1. OPM-1 Fully Automatic Onion Peeler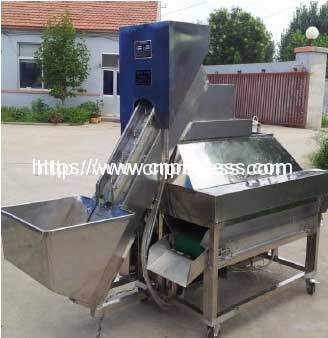 To all kinds of onions (50-130mm), no need to grade onions, no requirement to onion's original place, applicable to both dried and fresh onions.
Brief Introduction:
Onions are very vulnerable to bruising which quickly leads to spoilage, and abrasion peelers add to the problem. The updated machine blows the onion skin away without making surgical incision in the onion skin and cutting two ends. The onions are not manually handled and the gentle manner of processing reduces spoilage dramatically. There is no odor or problem with "running eyes". The capacity of this onion peeling machine is about 1 tons per hour, this type machine has low processing cost and high processing efficiency.
PVC automatic chain feeder—air box—onion collect — skin collect
Features
Perfect peeling quality
Full automatic, no spoilage to onions, easy operation and high peeling rate more than 95%
Stainless steel, no pollution to the onions.
Complete dry peeling
Hygienic design (easy to clean and disinfect)
Low energy and air consumption, Big handling capacity
Simple design and convenient usage, adopts food grade 304 stainless steel chain automatically feeding machine. Saving labor and healthy instead of manual processing onion.
Nice appearance, safe and reliable usage, all the components of materials meets the standards of PRC (GB/T-1997).
Adjustable at peeling skin layers
2. ORC-1 Automatic Onion Ends Cutter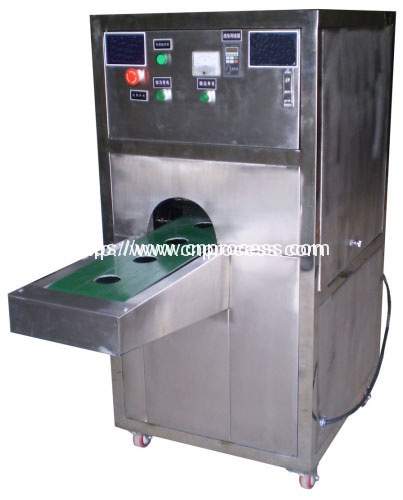 ORC-1 onion root cutting machine is the most advanced onion processing equipment with big production in the world,no special requirements in the size,dry or wet onions,or area. In any states, the onions can be peeled and cut in one-time. And it peels clean, no damage. This kind of machine has been widely used in vegetable processing industry, and it mainly has the following features:
The onions need not be classified. Without the demand in size, dry or wet, or the depth and firmness of onions. It can perfect cut them.
Automation cutting finished one time, and cutting clean, no damage.
The equipment without the design of wearing parts, the service life is long, cost-effective and efficient.
304 stainless steel body and shell, in line with international health standard.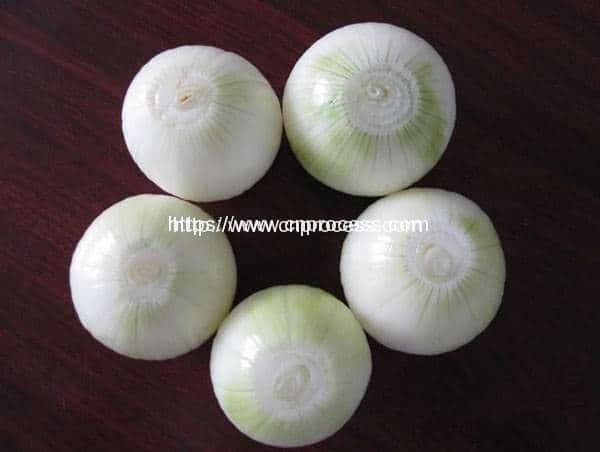 Main Technical Parameters
Power supply: 380V,50HZ
Power: 1.5Kw
Output: 1TPH
Weight: 116kg
3. Onion Shredder Machine

Features
This machine is the new advanced food machinery. It has the advantages of small size, high efficiency, beautiful shape, full-featured, safe operation, compact structure. All the contact part with material is made of stainless steel, confirms to the health standards.
Application:
This machine can cut hard, soft, leaf vegetables (such as celery, cabbage, , onion, spinach, carrot, potato etc.) and kelp into sliced flakiness, strip, filamentous, curved, and it suitable for food processing industry with the automatic production line.
Using Method:
When the materials is pressured from the feeder tray to the knife plate, the knife plate cut the material into slice shape, and then by the bevel of the knife plate blade pressure the material to the fixed knife plate, parallel blade will cut the former slice into strip or grain. Then pulled out by the pulling material plate.
Technical Parameters:
Model: ROS-1000
Output:500-1000kg/h
Total Power:1.5-4 KW
Dimensions:1300*510*1050mm
Weight:240kg
Material: Machine shell is stainless steel, rack is casting iron, knives is stainless steel, Conveyor belt is non-toxic rubber, Centrifugal piece part is stainless steel.
4. Electric Heating Onion Slice Drying Machine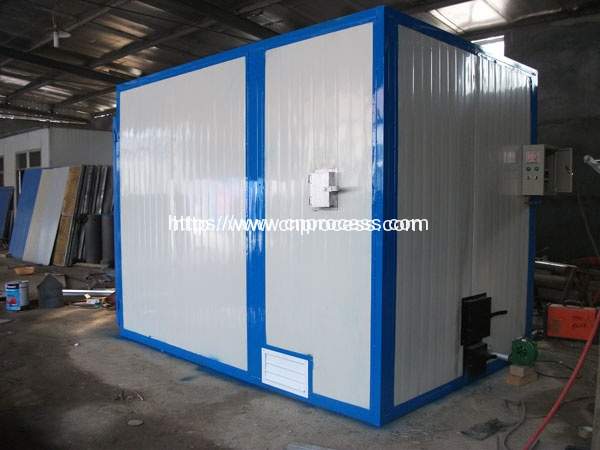 Brief Introduction
Electric heating dry oven adopt electric as heating source, it avoid bad smell of coal or other fuel.
RDO-48E has 48 plates in the dry oven, each size: 800mm*600mm*40mm, each plate can contain 5-8kg onion for the following drying process. So customer can put about 250kg in the dry oven per time. The drying circle is 3-4hours. So according to your requirement for 500kg per hour, it may need 7-8 sets for such dry oven.
If it is ok for you, you can build one dry house, then we can provide you the hot air generator. This will save a lot of cost.
5. Onion Powder Grinding Machine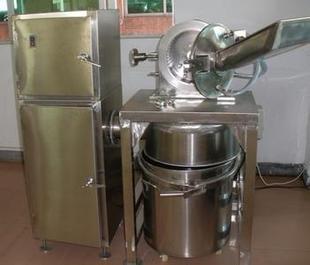 Brief Introduction:
Water-cooled device spice and herbs grinder with dust collector (hammer grinder) is made of high quality 304 stainless steel, with national standards motor, are especially for pepper, spices, herbs. Fineness of 10 to 120 meshes, according to the nature of the materials, different water content, and powder fineness different.
Water-cooling system
Water-cooled device is used to reduce the temperature of the grinding chamber. During the grinding process, if there is no water cooling system, the grinder chamber temperature will reach 70-80 centigrade. Understand such high temperature; it will make damage to spice or herbs (the chemical component and smell may be influenced by temperature). Temperature will also make the grinding speed lower.
Dust collector
During grinding of some material, such as pepper, spice, onion. There will have some micro power fly into the air , this will make the working condition very bad. In order to avoid this happen, we equip dust collector to avoid.
Features of machine
The grinding chamber assembly and disassembly simple and easy to clean.
This is an all 304 stainless steel, in line with the requirements of GMP.
Work smoothly with a low noise and small vibration
Replacing the screen can control the particle size/mesh.
Water cooling & dust collector system equipped
Parameter Table
| | | | | |
| --- | --- | --- | --- | --- |
| Model | RM-180WD | RM-250WD | RM-320WD | RM-350WD |
| Output(kg/h) | 20-120 | 30-200 | 50-300 | 70-500 |
| Motor RPM(r/min) | 4200 | 4200 | 4200 | 4200 |
| Size(mesh) | 10-120 | 10-120 | 10-120 | 10-120 |
| Power(KW) | 2.2+0.37 | 5.5+1.1 | 7.1+1.1 | 11+1.1 |
| Dimension(mm) | 1150*770*1200 | 1200*1200*1650 | 1300*1300*1800 | 1400*1400*1800 |
| Power Collect Tank(mm) | 380*380*1200 | 500*500*1500 | 500*500*1500 | 500*500*1500 |
| Hopper Size(mm) | 400*400 | 500*500 | 600*600 | 600*600 |
| Weight(kg) | 260 | 300 | 400 | 500 |
Company Profile
Adhering to the principle of managing scientifically and honesty and credit,our factory has passed ISO9001-2000 quality system certification. Now, Our factory can provide onion dry cleaning machine, onion water washing machine, onion mesh bag packing machine, onion peeling machine, onion root cutting machine, onion cutting machine, onion dryer machine, onion powder production line, onion powder bottle filling sealing machine.
Our onion processing products have passed with CE,ISO and SGS Certificates and has been widely sold all over the world.
Send Us Inquiry to Get Quotation