Chili Cutting Machine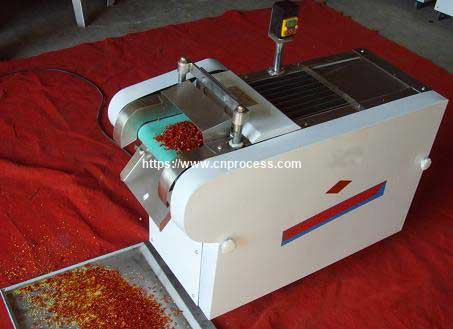 Pepper/chili cutting machine is a kind of machine for pepper/chili processing. It can cut fresh and dry pepper/chili into circle, section, shreds. The size can be adjusted according to your requirements. It is widely used in kitchen, restaurant, school, hotel, army and other vegetable processing factory.
Feature
---
chilli cutting machine simulating hand-chopping, with extra director,

chili cutting machine for some vegetables, potatoes, cooked food, fried food and a certain hardness to slice, dice, cut, shredded, cut curves purpose special equipment.

Especially for potatoes, sweet potatoes, pumpkin, onion, cooked food, cooked pasta and other foods' dice, cut, sliced, shredded.

This chilli cutting machine adopts the intermittent inorganic regulatory agencies, eccentric vibration reciprocating movement organizations and agencies,

may adapt to 1-30mm cutting, such as the cut potato, sweet potato, pumpkin into cubes, rectangular or block, matching with our product of cutting machine, and it will more efficient, convenient maintenance and better cutting quality.

Reasonable design, superior performance, simple operation and strong adaptability. Cutting surface is smooth, tidy and with good condition, keeping hand-cutting effect.
Working Video
---
Company Profile
---
Romiter Group is professional food processing machine supplier from China. Romiter Group is committed to food grindering and milling machine. Romiter can provide various chili processing machine for customer, include chili powder grinder, chilies powder production line, chili stem cutting machine, chili drying machine, chili dry washing machine, chili crusher, chili metal remove machine, chili seeds remove machine, chili stone remove machine and so on.
Send Us Inquiry to Get Quotation
---