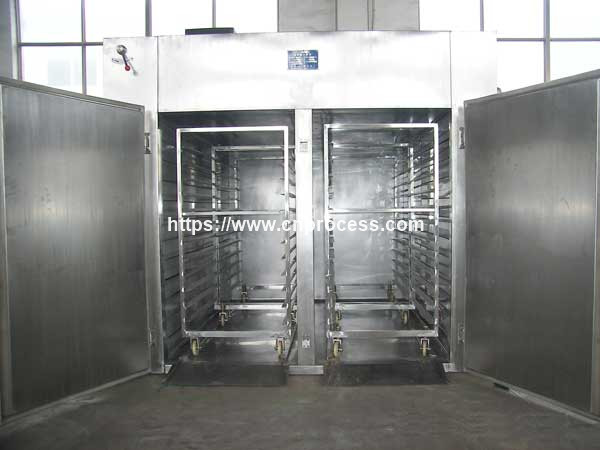 1. Principle:
---
CT-C series hot air circulation drying oven adopts noise elimination and thermal stable axial flow fan and automatic temperature control system. The entire circulation system is enclosed to make that the heat efficiency of the drying oven increases from 3~7% of the traditional drying oven to 35~45% of the present one. The highest heat efficiency can be up to 50%. The successful design of CT-C hot air circulation oven makes that the hot air circulation drying oven in our country reach the advanced level in the world. It saves energy and increases the economic benefit. In1990,the medical management bureau of the State issued the industry standard and the uniform type is RXH.
2. Applications
---
This drying oven is suitable for the material and for the product hot solidification and drying de-watering in the pharmaceutical, chemical, food, farming, side-product, aquatic product, light industry, heavy industry and so on. Such as:raw material medicine, crude drug, prepared herbal traditional Chinese medicine, plaster, powder, particle, drinking agent, pill, packing bottle, pigment, dyestuff, de-watering vegetable, dried fruit piece, sausage, plastics, resin, electric component, baking varnish etc.
3. Explanations
---
For the heating source, there are four kinds: steam, electricity, heat conducting oil, both steam and electricity.

The temperature (steam heating): 50-140℃, Max 150 ℃

The temperature (electricity): 50-300℃

The automatic control system or the computer control system is selectable.

Commonly used steam pressure 0.2-0.8 MPa (2-8kg/cm2).

If the electrical heating is type 1, the calculation is 15KW, and the practical use is 5-8 kw/h.

The special requirements should be indicated at the time of order.

The price for the non-standard oven should be consulted.

The operation temperature is more than 140℃ or less than 60℃ should be indicated at the time of order.

The oven and baking plates made by our factory are uniform in the dimensions, and can be exchanged each other.
4. Specification of CT-C-III
---
Type:CT-

C-4

Overall size: 4460mm×2200mm×2290mm(L×W×H);

Fan:power:0.45Kw, 4pcs  380V, 50Hz;

Baking tray: 640mm×460mm×45mm ,192 pcs;

Baking trolley:940×710×1450  8 pcs;

Heat exchanger:aluminum winding carbon steel pipe,2*50m2;

Working temperature:60℃;

Circulation fan for circulate heating;

Control system:heating control,temperature display and setting control, fan working control.
5. Parameter Table of Chili Dryer Oven
---
Type
Capacity (kg/batch)
Power (kw)
Steam consump (kg/h)
Heating area(m2)
Air (m3/h)
Drying tray (pc)
Overall size
Baking cart (set)
(L*W*H)mm
CT-C-I
100
0.45
18
20
3450
48
2300* 1200* 2000
2
CT-C-II
200
0.9
36
40
6900
96
2300* 2200* 2000
4
CT-C-III
300
1.35
54
120
10350
144
2300* 3220* 2000
6
CT-C-IV
400
1.8
72
160
13800
192
4460* 2200*2290
8
Remarks
Standard design: Inner wall as SS304, Outer wall as carbon steel with painting, drying tray is SS304, circulation fan is stainless steel.
If customer has other requirement of equipment, the price will change.
Company Profile
---
Romiter Group is professional food processing machine supplier from China. Romiter Group is committed to food grindering and milling machine. Romiter can provide various chili processing machine for customer, include chilies powder grinding machine, chili stem cutting machine, chili drying machine, chili dry washing machine, chili crusher, chili metal remove machine, chili seeds remove machine, chili stone remove machine and so on.
Send Us Inquiry to Get Quotation
---