Chili Sauce Steam Cooking Pot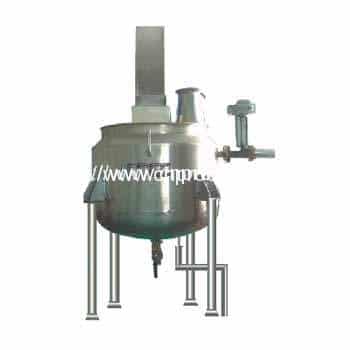 Chili Sauce Steam Cooking Pot applies to make jam or sauce. It applies to process chili, mango, papaya, banana and other fruits. The pot body is made of 316 stainless steel, high pressure-bearing, the highest temperature can reach 340F.The machine adopts incorporated motor reducing gear. Straight-forward scraper mixing together with reverse lift stirrer can mix jams uniformly and enhance jams quality.
Warming fast, high temperature, the jams has fresh color and taste good. Discharge flotsam automatically, advanced production processes, high efficiency. Automatical temperature measuring system and alarming system. Enclosed system, clean and health.

Company Profile
---
Romiter Group is professional food processing machine supplier from China. Romiter Group is committed to food grindering and milling machine. Romiter can provide various chili processing machine for customer, include chili powder grinder, chilies powder production line, chili stem cutting machine, chili drying machine, chili dry washing machine, chili crusher, chili metal remove machine, chili seeds remove machine, chili stone remove machine and so on.
Send Us Inquiry to Get Quotation
---