Fruit & Vegetable Steam Blanching Machine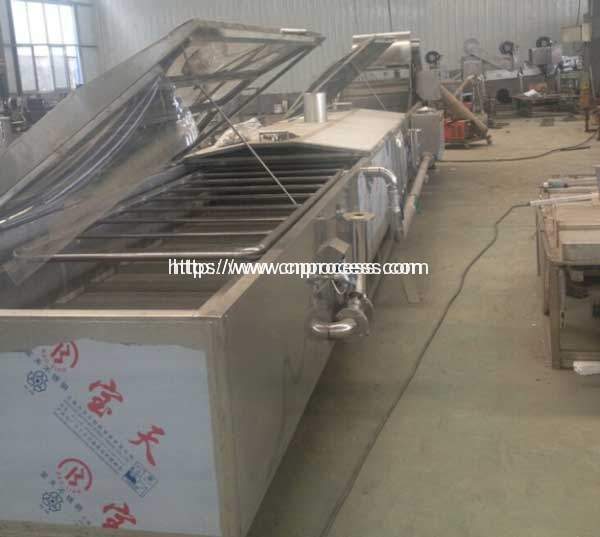 Steam blanching machine is used for pretreatment of meat product, Fruit and Vegetable Processing, Seafood products. Adopt chain belt to feed and get out material.

Blanching machine adopt steam heating or electric heating. easy operation, high output, automatic temperature control, double layer heat insulation material. This machine can be customized according to customer's requirement.
This blanching machine is made of stainless steel SUS304. The blanching temperature and speed can be set according to different requirement. Vibrable frequency motor, automatic temperature control, with low noise and stable running condition.
Steam blanching machine can be connected to vibrate de-watering machine or cooling machine, it realize the automatic line production.
Specification
Power:3kw
Water Volume:3t/h
Water Consumption:0.2t/h
Steam Consumption:1.5t/h
Output:1000-1500㎏/h
Outline Dimension:8300×1260×1300㎜
Company Profile
Romiter Group is professional food processing machine supplier from China. Romiter Group is committed to food grindering and milling machine. Romiter can provide various chili processing machine for customer, include chili powder grinder, chilies powder production line, chili stem cutting machine, chili drying machine, chili dry washing machine, chili crusher, stainless steel chili crusher, chili roaster machine, fresh chili cutting machine, chili metal remove machine, chili seeds remove machine, chili stone remove machine and so on.
Send Inquiry to Get Quotation