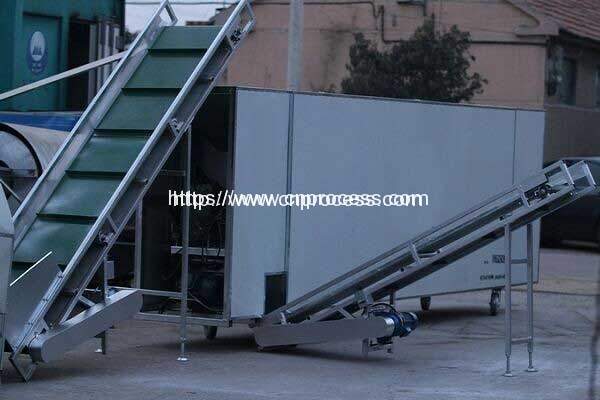 This type chili stem cutting machine is used to cut chili stem. For this chili stem cutting machine, we adopt special design with chili feeding conveyor and chili output take away conveyor. This makes chili stem cutting process very simple.
Specification of Chili Stem Cutting Machine with Conveyor
The material for machine structure: 5cm*5cm square pipe,
Wall thickness: 0.25cm;
Sieve pore diameter: 10mm 1set (according to customer's requirements)
Diameter of the roller: 1000mm,
Quantity of roller: 2/Machine
Dimensions of the machine: 5.2m*1.17m*2.38m
Weight of the machine: 1500KG
Total Power: 8KW, one machine is with two electro motors,
Each one: 4KW Frequency 50 Hz
Output of the machine: 400KG-450KG/H (It depends on the chili type)
Clean rate: above 95%
Machine is suitable for Fresh Chili (Green & Red) and Dry Chili too.
Guarantee: 1 year
Life for Blades: 2 Years.
Factory Tour
Company Profile
Romiter Group is professional food processing machine supplier from China. Romiter Group is committed to food grindering and milling machine. Romiter can provide various chili processing machine for customer, include chili powder grinder, chilies powder production line, chili stem cutting machine, chili drying machine, chili dry washing machine, chili crusher, stainless steel chili crusher, chili roaster machine, fresh chili cutting machine, chili metal remove machine, chili seeds remove machine, chili stone remove machine and so on.
Send Inquiry to Get Quotation