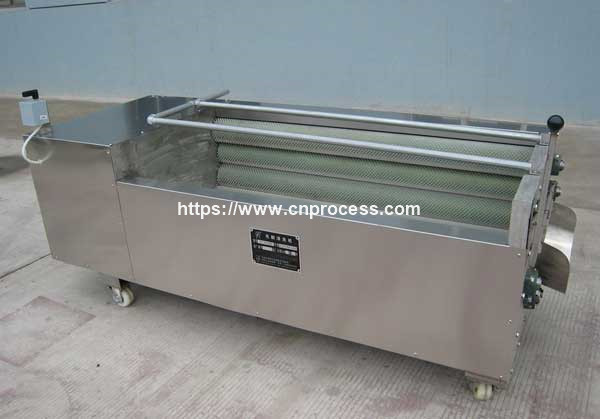 Brush Type Ginger Peeling Machine is used to peel ginger, it adopt rotary brush and spray water to peel and washing the ginger.
Description of Ginger Washing Peeling Machine
Ginger Cleaner Peeler Machine is mainly suitable for washing stem and root vegetables(carrot,potato,ginger,yam, pachyrhizus etc) and fruits.
Ginger Cleaner/Peeler Machine adopts the advanced principle that materials turn inside the rollers. There are 6 to 11 rollers inside the barrel,the rollers made of brushes and grinding wheels.The vegetables tumble rotating in a circle inside the rollers deasile and clockwise.
The rollers of Ginger Cleaner/Peeler Machine are made of ABS95 plastic, so the brushes are easy to be exchanged.The main parts adopt double bearings.The chain and chain wheel are durable.
Ginger Cleaner/Peeler Machine is energy saving,high output,low noise and steady work.
Working Video of Ginger  Washing Peeling Machine
Company Profile
Romiter Group is professional food processing machine supplier from China. Romiter Group is committed to food grindering and milling machine. Romiter can provide various chili processing machine for customer, include chili powder grinder, chilies powder production line, chili stem cutting machine, chili drying machine, chili dry washing machine, chili crusher, chili metal remove machine, chili seeds remove machine, chili stone remove machine and so on.
Send Inquiry to Get Quotation