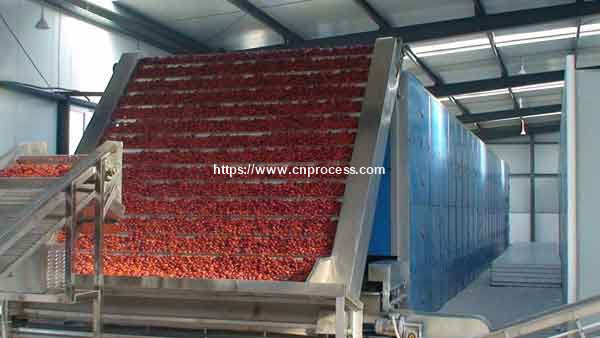 Multi layer belt dryer is a long continuous stable dryer equipment, it is widely used for light industry, chemical industry, medicine, grain, salt, plastics and other industry.
Because of good quality, reasonable price and perfect sevrice, our multi layer belt dryer had already gotten a warm welcome all over the world.
Working Principles of Multi layer Belt Dryer:
The raw material was transported into the feeder and put on the mesh-belt uniformly. Then the transmission device will carry the mesh-belt to keep moving forward.
In the mesh-belt, there are some heater strips. When the multi layer belt dryer the power, the heater strips will produce great heat to dry the raw material.
The multi layer belt dryer is composed of several unit. Each unit is interlinked, so that the hot air can be successively used. And it can improve the drying effect.
The hot air alway around the surface of the raw material and turn water into water vapor, then the raw material complete the drying process.
At the top of the multi layer belt dryer, there some small blowers. The small blowers  will take the water vapor out and left the dried raw material.
Advantages of Multi layer Belt Dryer:
The insulation boards of multi layer belt dryer are knocked-down, so it is very convenient to recycle the food which has fallen down on the multi layer belt dryer's layer.
Our multi layer belt dryer is full automatic, the water content and temperature are controlled by electrical cabinets. According to you actual demand, you can adjust a best drying condition.
Multi layer belt type dryer with a low labor invest. One person can complete all process.
All processes are under a closed environment, it can reduce the heat loss, so multi layer belt dryer has a low power consumption.
As a multi layer belt dryer manufacturer, before we made out our products, we had done  thousands of tests, so our multi layer belt type dryer has less  mechanical failure.
The speed of the mesh-belt is constant, so the final material is highly uniform.
Our multi layer belt type dryer has a scientific compact design, it can save your working site.
MODEL
DW3-1.2-8
DW3-1.2-10
DW3-1.6-8
DW3-1.6-10
DW3-2-8
DW3-2-8
Unit
4*3
5*3
4*3
5*3
4*3
5*3
Belt Width(m)
1.2
1.6
2
Drying Length(m)
8*3
10*3
8*3
10*3
8*3
10*3
Material Thickness(mm)
10-80
Temperature(oC)
50-140
Steam Pressure(MPa)
0.2-0.8
Steam Consumption(kg/h)
360-600
420-720
450-840
480-960
480-960
630-1350
Heat Transfer Area(m2)
816
1020
1056
1320
1344
1680
Water Drying Intensity (kg/h)
150-450
220-550
240-600
280-750
280-750
350-900
Fan Number
14
17
14
17
14
17
Internal Power(kw)
30.8
37.4
42
51
56
68
Total Power(kw)
35.3
41.9
46.5
55.5
60.5
72.5
Outline Dimension(L*W*H)
9.77*2.2*4.5
11.77*2.2*4.5
9.77*2.6*4.7
11.77*2.6*4.7
9.77*3.06*4.9
11.77*3.06*4.9
Total Weight kg
4800*3
5780*3
5400*3
6550*3
6350*3
7800*3
Company Profile
Romiter Group is professional food processing machine supplier from China. Romiter Group is committed to food grindering and milling machine. Romiter can provide various chili processing machine for customer, include chili powder grinder, chilies powder production line, chili stem cutting machine, chili drying machine, chili dry washing machine, chili crusher, stainless steel chili crusher, chili roaster machine, fresh chili cutting machine, chili metal remove machine, chili seeds remove machine, chili stone remove machine and so on.
Send Inquiry to Get Quotation