Multifunctional Milling Machine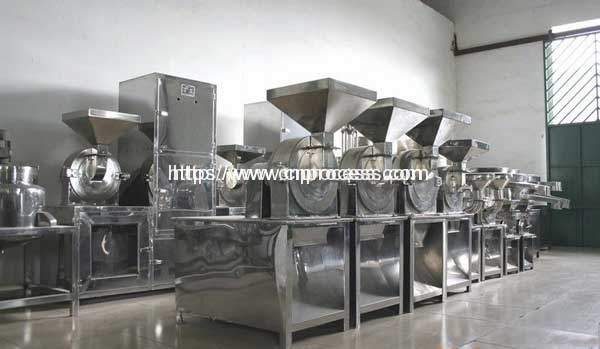 Multi-functional Milling Machine is made of 304 stainless steel. It is widely used for chemical  materials, branch and massive materials, course cereals and other rigid materials. The size of granule is adjustable by changing the screen cloth.
Multi-functional Milling Machine
Operation
Open the case and cover, will be moving grinding, feeders, washers, bearings, seals, etc, installed.

Will be covered hopper will feed into the shell mouth. In the mill, it will baffle opening smaller, so as not to feed too fast, stuck motor.

Static grinding to prevent rotation, tighten the screws should be set in the regulation of slot.

Milling, the materials required to dry wet materials shall not be used, otherwise it will stick grinding, and the material can not come out.

Grinding work space must be based on the thickness of the material needed to be adjusted, loosen the adjustment screws, coarse and fine adjustment by adjusting screw, adjust appropriately, it will tighten the screws.
Multi-functional Milling Machine Adjustment
Static grinding adjustment, first remove the end cap, loosen the adjustment screws and lock out button, then release the clamp screws and screws ,and then turn to the left spindle solution to mobilize the handle until the static and dynamic grinding 2 face overlap, such as turning the sound issue even when contact with the appropriate tightening
Multi-functional Milling Machine Specification
Item

RM-180

RM-250

RM-320

RM-350

output(kg/h)

10-120

30-200

50-300

70-500

Material

304Stainless steel 

voltage(V)

Customized

Power(KW

2.2

5.5

7.5

11

Speed(r/min)

4200

4200

4200

4200

Fineness (mesh) 

10-120

10-120

10-120

10-120

Dimension(mm)

480*520*1040

750*600*1260

780*700*1350

800*900*1550

Weight(kg)

75

180

260

320
High Quality Spar Parts

Company Profile
Romiter Group is professional food processing machine supplier from China. Romiter Group is committed to food grindering and milling machine. Romiter can provide various chili processing machine for customer, include chili powder grinder, chilies powder production line, chili stem cutting machine, chili drying machine, chili dry washing machine, chili crusher, chili metal remove machine, chili seeds remove machine, chili stone remove machine and so on.
Send Inquiry
to Get Quotation