Pumpkin Seeds Shelling Line for Sale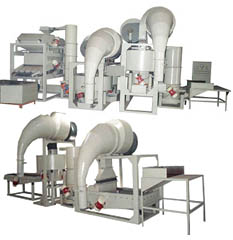 Pumpkin seeds shelling and sorting unit  can finish shelling ,peeling and sorting of raw material .The seeds are processed in a continuous circle.Un-hulled seeds can be delivered automatically to the next round.The machine is easy to operate and low energy consumption . The Pumpkin Seeds Cleaning, Grading, Shelling & Separating Equipments is special patent machine for pumpkin seeds shelling. Pumpkin Seeds Shelling Line consists of two units: Cleaning and Grading Unit, Shelling andSeparating Unit.
Cleaning and Grading Unit

can clean various impurities mixed in pumpkin seeds or watermelon seeds and then grade the seeds into 7 levels by sizes.

Shelling and

Separating Un

it

can shell each grade of pumpkin/watermelon seeds individually, then remove shells from kernels. Un-hullered seeds will be returned back to dehuller for re-hulling again automatically.
2. Working Process:
---
raw material – decontaminate-sorting – shelling- drying – finished product storage
3.
Component:
---
The equipment consists of feed-in hopper,bucket elevator,huller,shells collector,un-hulled seeds separator,and electric control cabinet.
4. Specification
---
Power:8.19KW
Peeling Rate:≥95%
Weight:200-300kg/h
Space Requirement:6.5m×2.9m
Height:3.5m
Weight:2.5t
Se

nd Us Inquiry to Get Quotation
---