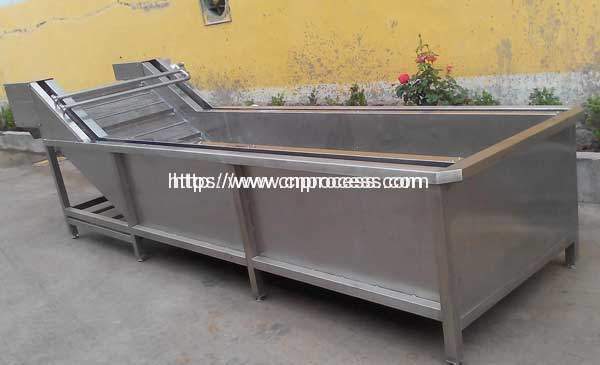 Vegetable & Fruit Air Bubble Washing Machine washes dirt attached on the surface of vegetables by air bubble washing. It imitates human washing motion and avoids collision or friction damages caused by human washing. Efficiency will be increased because this machine change human labor to mechanized process.It is suitable for washing fresh vegetables, preserved vegetables, fungus, marine products, etc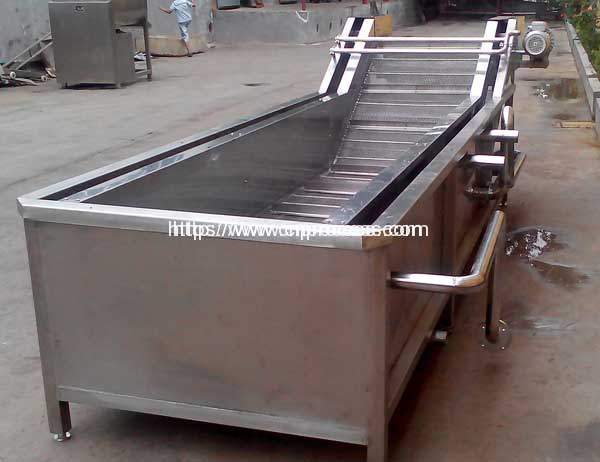 Bubble Vegetable washing Machine adopts high pressure to make the bubble, circulating surfing, bubble washing, and high pressure spraying. Separating silt, impurities, intercepted by vat-net of elevator shape. Supplying water continuously, and adjustable. By now, ozone has characteristics of broad-spectrum, high-efficiency, high-speed, safety, no secondary pollution sterilization gas.
And it can kill bacterial spore, virus, fungi, it can also undermine the meat toxin. Ozone can also kill hepatitis A, hepatitis B, and other transmitted virus, Beside, it can clean the toxicity of the fruit and vegetable and the detergent residues.
Specification of Vegetable Water Washing Machine
| | | | | |
| --- | --- | --- | --- | --- |
| Model | Power | Capacity | Weight | Dimension |
| RM-BW3000 | 1.3kw | 1000kg/h | 160kg | 3000*1020*1350mm |
| RM-BW4000 | 2.57kw | 2000kg/h | 220kg | 4130*1010*1550mm |
| RM-BW5000 | 3.37kw | 3000kg/h | 260kg | 5200*1010*1550mm |
Note: we provide customized machine according to customer requirement.
Company Profile
Romiter Group is professional food processing machine supplier from China. Romiter Group is committed to food grindering and milling machine. Romiter can provide various chili processing machine for customer, include chili powder grinder, chilies powder production line, chili stem cutting machine, chili drying machine, chili dry washing machine, chili crusher, chili metal remove machine, chili seeds remove machine, chili stone remove machine and so on.
Send Us Inquiry to Get Quotation