This machine is mainly used for roasting and drying the granular materials like chili, pepper, peanut, groundnut kernels, Chinese chestnut, walnut, almond, broad bean, coffee bean, melon seeds, sunflower seeds, hazelnut etc.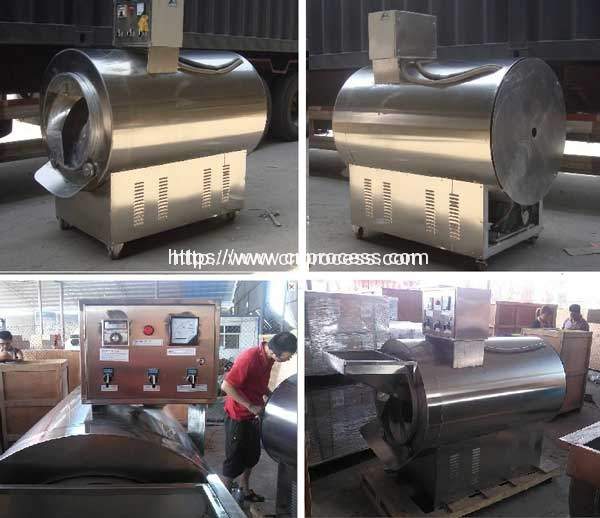 Advantages of stainless steel chili roaster machine
1. Can take Electric or Gas as heating energy supply.
2. The whole process of rolling, roasting and letting out are operated automatically.
3. The advanced horizontal roller make it heat uniformly, at the same time, can keep the temperature, the nuts will not get cool quickly.
4. The nuts will not stick on the wall of machine
5. The rolling direction is adjustable, can roll at clock wise and counter clock wise
6. You just need to press the button, and change the rolling direction into opposite when finish roasting, the nuts will come out automatically.
Specification
Item
CHR -30
CHR-50
CHR-100
 CHR-150
CHR-200
 CHR-300
 CHR-500
 Voltage
 220V/380V
 380V
 380V
 380V
 380V
 380V
 380V
 Heating

Power(kw)

 4
 12-18
 24-36
 36-45
 45-54
 54-60
 80-100
 Motor(kw)
 0.55
 0.55
 0.75
 1
 1.5
 3
 3
 Capacity

(kg/h)

 50-70
 100-150
 150-200
 200-300
 250-360
 350-500
 500-1000
 Size(m)
 1.5*0.8*1.4
 1.7*0.8*1.5
 2.2*0.9*1.6
 2.5*0.9*1.6
 3.2*1*1.7
 3.5*1*1.7
 4.5*0.9*1.6
 Weight(kg)
 300
 400
 700
 800
 900
 1200
 1800
Working Video of Stainless Steel Chili Roaster
Company Profile
Romiter Group is professional food processing machine supplier from China. Romiter Group is committed to food grindering and milling machine. Romiter can provide various chili processing machine for customer, include chili powder grinder, chilies powder production line, chili stem cutting machine, chili drying machine, chili dry washing machine, chili crusher, stainless steel chili crusher, chili roaster machine, fresh chili cutting machine, chili metal remove machine, chili seeds remove machine, chili stone remove machine and so on.
Send Inquiry to Get Quotation