Chili Powder Bottle Filling Capping Line mainly include four parts , including bottle ordering machine, bottle powder filling capping machine, bottle aluminium foil induction sealing machine, bottle labeling machine.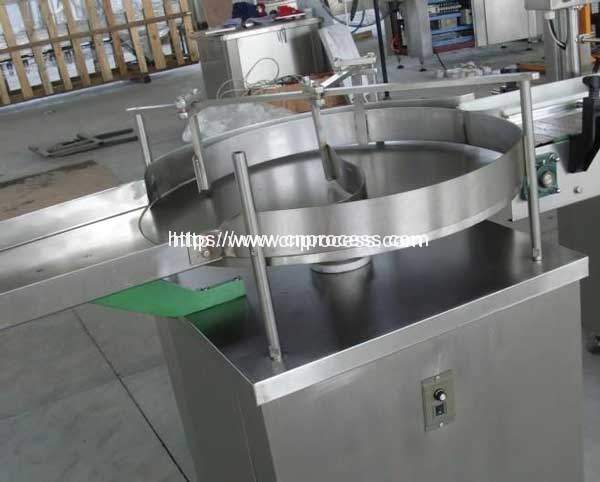 This automatic ordering machine adopts one motor to drive working table-board rotate, so as to deed bottle into conveyor. It is mainly suitable for cans, round or square bottle, is corollary equipment of automatic product ling in common usage, to satisfying many kinds of bottle, if adjust, you need only adjust the position and height of baffle. The machine is equipped with steeples governing frequency conversion.
Mainly parts:
(1) Stainless steel table-board.
(2) Baffle
(3) motor
(4) stand column
Voltage: 380V,50Hz(customized available)
Disc diameter: 600mm
Power: 0.6KW
Speed: 30-50bottles/min (adjustable)
Powder Bottle Filling and Capping Machine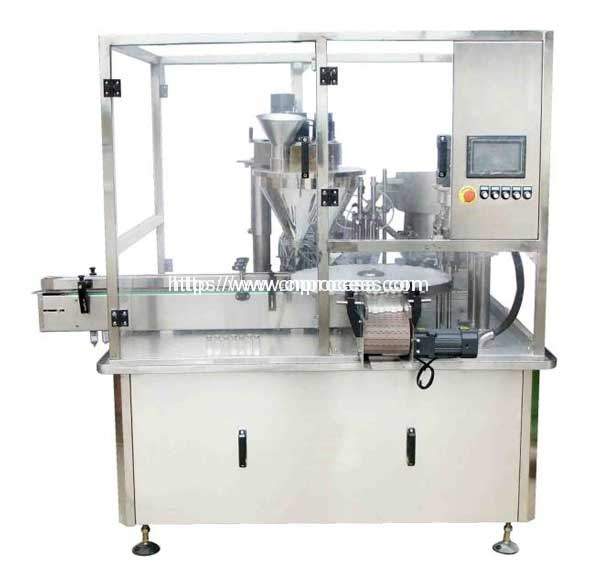 The powder filling machine is mainly used for food and medical industries.
The machine fills automatically and completes the measurement.
The whole machine is made of SUS304 stainless steel which is complete food grade.
It is controlled by the PLC touch screen which can show us Chinese and English, therefore, the operation is simple.
The machine measures by volumetric screw. The filling range is widely. It can be adjusted. It is used for different volume
The filling volume can be settled in touch screen. It is combination of totally enclosed, stainless steel and organic glass hopper. It is convenient to remove and wash.
Machine is equipped with vibrator when filling to avoid of overflow.
The machine has the function: no bottle no fills.
The parts which contacts the powder is made of SUS316 stainless steel material. The machine fully meets with GMP requirement.
Specification of Bottle Powder Filling Capping Machine
Production capacity: 50bottles/min (according to bottle size)
Filling head: 1
Capping head: 1
Applicable specification: Adjustable according to customer requirement
Filling error:≤±2%
Voltage:380v/50HZ (customized available)
Power:2.2kw
Dimension: to be confirmed
Weight: to be confirmed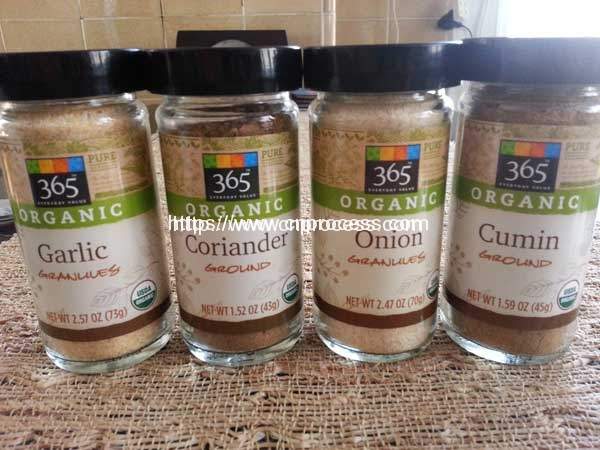 Aluminum foils induction sealing machine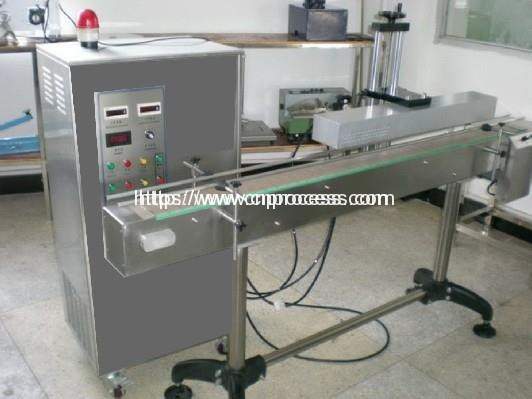 Advantage Feature
Easy to use microprocessor controls
High efficiency, low power consumption and long service life
Height of sealing line adjustable to accept wide range of bottle heights
Over 4 KW of power for large mouth caps up to 121 MM
Electric current overload, voltage overload and output overload protection
Modular component design minimizes maintenance and increased reliability
Whole stainless steel construction for using in harsh environment and easy for clean and maintenance
Air Cooling System eliminates all water cooling pipes, pumps, filters and flow switches
Can be operated as independent free standing unit or completely integrated into filling line control system
Specification
| | |
| --- | --- |
| Suitable cap diameter | 38-65mm(customized) |
| Sealing speed | Max 280pcs/min |
| Conveyor speed | 280Pcs/min |
| Cooling method | Air cooling/ water cooling (Tailor-made) |
| Power supply | 220/380V 50/60Hz 4500W |
| Cabinet size | L400*W600*H1050mm |
| Machine size | L1500*W600*H1200mm |
| Weight | 170Kg |
Round bottle labeling machine
This round bottle labeling machine is suitable for all kinds of round bottles/ jars/ cans etc. Both glass bottles and plastic bottle are ok. Also the machine is adjustable to suit different diameter and height bottle.
Machine Structure:
Belt Type Conveyor
This labeler use imported industrial belt. It is much wearable without dirty easily and for long term life operation. It also could change over the suitable belt material depends on products.
Precise Sensor
Adopt to top level fiber optic sensor to precisely do products and label location without interference. Unique design for slide rail, it is much different from the poor design by general manufacturer.
Quality & Beauty
The labeler main structure is manufactured from S304 stainless steel with anodized process and high quality aluminum. It is complied with GMP standard that provides easy maintenance and for a long durable life. Top chain made by FRP chain material and hard-wearing UPE guide rail applied for the conveyer system.
Specification
| | |
| --- | --- |
| Driven | Step motor |
| Direction | Right to left/ Left to right |
| Label core | Standard 75mm |
| Label roll | Max 300mm |
| Bottle size | Diameter: 10-150mm Height 30-350mm |
| Label size | Length 10-350mm Width 10-200mm |
| Precision | ±0.5mm |
| Power | 220/380V 50/60Hz 350W |
| Weight | 200kg |
| Machine size | 1500*850*1200mm(L*W*H) |
Inkjet Printer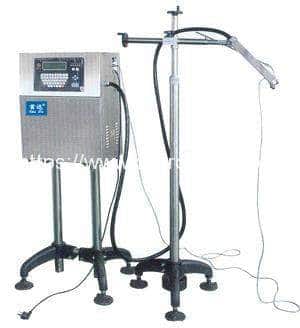 It can print 1-3 lines, and the character height reaches 1.8mm, 3.0mm, 8.0mm, 17mm with combined big and small characters.
Printing speed reaches 100m/min, bar code 30m/min;
Environmental protection solvent free ink, 125ML iscapable of printing 30 million characters (3mm high)
It is capable of storing 100 printing information, each
Information reaches 1600 characters
It is applicable for metal, plastic, glass, wood, paper and ceramics etc.
Specification
Model: RMP-280
Letter lattice: 7*5, 8*8, 8*10,12*12,16*10,16*16
Printable lines: 1-3 lines (adjustable) Height of letter: 2-10mm
Speed of print: 2m/s(7×5 format is quickest) Print direction: Omni-directional
Printable target: paper, plastic, metal, PVC, PPR, Glass, Wood and Rubber etc.
Print function:
1) Serial number, batch number, product counting display and print.
2) Date program real time clock automatic change display and show.
3) Information prolongs and repeats storage print
4) The letter can be overstriking and widen from one nine times
5) The height and width can be adjustable. Viscosity control: self-regulation Consumables: automatic
In put display: Backlighting LCD display, screen saver(imported), Chinese and English input
Communication interface: RS-232 interface
Environment temperature: 0-45℃, 10-90%RH(non-condensing) Voltage: 220±20VAC
Power: 100VA
Grade of protection: IP55
Overall dimension: 500×422×300mm
Spray head: 200×39×20mm
Control panel: touch type tectorial membrane button
Material: Stainless steel
Pipe length: 3m
Weight: 45kg (bracket and printer)
Packing table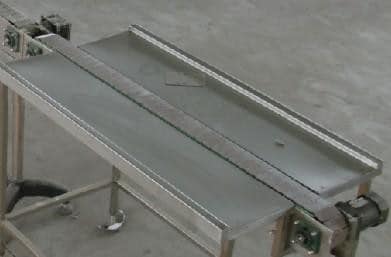 Conveyor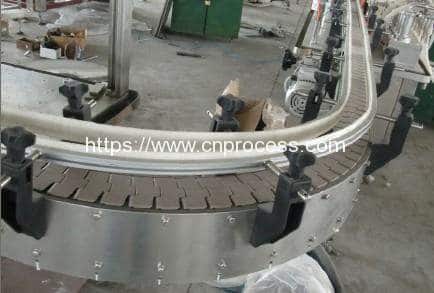 Main parts:
(1) Stainless steel chain
(2) Holder
(3) Interior paneling
(4) Mounting bracker
(5) Drive shaft
It is the conveyor of the whole equipment
Company Profile
Romiter Group is professional food processing machine supplier from China. Romiter Group is committed to food grindering and milling machine. Romiter can provide various chili processing machine for customer, include chili powder grinder, chilies powder production line, chili stem cutting machine, chili drying machine, chili dry washing machine, chili crusher, chili metal remove machine, chili seeds remove machine, chili stone remove machine and so on.
Send Us Inquiry to Get Quotation