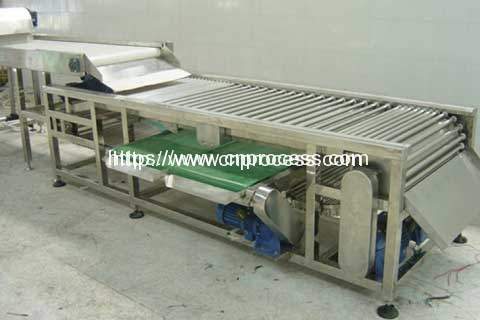 This fruit grading machine is used to grade the fruit by size. It applied to grade walnut.、apple、 pear 、peach etc .It can be used in factories and farmland.
---
Output: 2000Kg/h
Power: 3KW
Grades: 1-5
Voltage: 380V
Outer Dimension:2300mm*2080mm*1300mm
Weight: 1000Kg
---
Large production, scatheless for fruits, grades up to 5 different sizes, high accuracy, convenient adjusting methed.

Compatile with other processing equipments.

With simple and reliable operation, suitable to grade many fruits.
Structure
---
The fruit grading machine has motor 、stainless steel tube belt 、feeding hole and several connecting hoppers. Rollarounds Fruit Grader adopts homodromous constant speed moving stainless steel tube conveyor belt. In the moving forward, the interspace between tubes become bigger and bigger gradually, and fruits leak from the interspace if the size of fruits is smaller than interspace.
Equipment level
---
Our fruit grading machine can be supplied inclusively with other parts as fully functional unit for fruit processing purpose.
Send Us Inquiry to Get Quotation
---