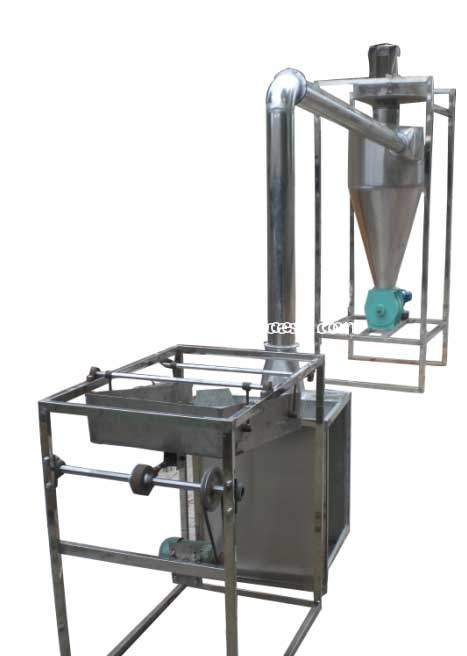 Stone remover machine is used for remove stone in the chili or pepper, it is used in the chili powder production line or other chili processing line
Working Flow
Firstly manually put the chili into the screen, through the motor let the screen swing, the stones that are smaller than chili seeds, will be down here, and others go after air flow destoner, all the stoners are removed here and chili is delivered to following pipes and cyclone and down to the conveyor and then go to the dry washer.
Main Technique Parameters
Screen power:0.37KW
Dimensions: 1.3*0.85*1.4m
Air Locker power:1.5KW geared motor
Fan power:7.5KW
Fan Rack Dimensions: 1.2*1.2*3.1m
Destoner Dimensions:0.8*0.65*1m
Vertical Pipe Length:1.5m
Horizontal Pipe Length:3m
Company Profile
Romiter Group is professional food processing machine supplier from China. Romiter Group is committed to food grindering and milling machine. Romiter can provide various chili processing machine for customer, include chili powder grinder, chilies powder production line, chili stem cutting machine, chili drying machine, chili dry washing machine, chili crusher, chili metal remove machine, chili seeds remove machine, chili stone remove machine and so on.
Send Us Inquiry to Get Quotation